Launch Site Media
was formed to address the needs of merchants and individuals looking for affordable, high-quality design, hosting, and e-commerce solutions. With the complexity of today's website options, individuals often find the "assembly" of required components for a successful website presence to be quite difficult.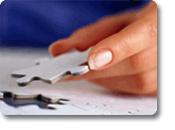 Our team of designers and programmers specialize in assembling the "Internet puzzle pieces" into a workable product. Therefore, organizations do not have to worry about compatibilities of a website coding, hosting configurations, SSL encryptions, payment gateway connections, and shopping cart functionality with a specialized merchant account. Each of our team members has a minimum of three years experience designing, building and supporting web sites. We are committed to providing you with the best designs, the best web pages, and the best service and support.
We strive to offer affordable services that will enhance your professionalism. Customer satisfaction is a priority, even when costly for us to go the extra mile. As a solution-oriented firm, Launch Site Media continues to seek and test more efficient ways to serve our clients. Our team works to ensure full satisfaction with every project we handle. We are not satisfied until you are satisfied and will do everything possible to make it that way. We look forward to hearing from you.